Arches National Park is one of the most popular tourist destinations in Utah. And it's no wonder why—the park is home to some of the most stunning natural rock formations in the world. Its gorgeous desert landscapes and iconic red rock arches draw visitors from far and wide. From towering rock formations to tranquil desert views, there's something to admire at every turn.
If you're planning a visit to Arches, be sure to check out this guide to the best hikes, views, and arches in the park. We'll help you make the most of your visit and ensure you don't miss any of the park's best sights. So grab your hiking shoes and water bottle, and get ready to explore Arches National Park!

Delicate Arch
Drive-Up: ✓ Can be seen at a distance from the Delicate Arch Viewpoint
Hike: ✓ 3 miles round-trip (About 2 hours)
Delicate Arch is the most iconic formation in the park, with its recognizable free-standing shape and orange striations. Like the other arches in Moab, the sandstone rock was formed in the Jurassic Age from salt bed movement and then eroded by ice, water, and wind.
If you want to see Delicate Arch up close and personal to grab some pictures, you'll need to make the three-mile round-trip hike on the Delicate Arch Trail. This hike is classified as moderately challenging and has a 629-foot elevation gain.
The best times to get pictures at the arch are at sunrise, sunset, or late afternoon for the best lighting to show off the beautiful red rock.
If you prefer to stay in the car, this arch can also be viewed from the Delicate Arch Viewpoint on the Arches Scenic Drive—however, be aware that you'll only see the arch at quite a distance and won't be able to get pictures near the formation itself. 

Balanced Rock
Drive-Up: ✓ You can see Balanced Rock from the Arches Scenic Drive
Hike: ✓ 0.3 miles along the Balanced Rock Loop Trail (10-minute walk)
Balanced Rock is immediately recognizable for its gravity-defying position. Although it looks like two rocks balanced on top of each other—with the top one about to fall—it's actually one solid rock all the way through, with erosion responsible for its top-heavy shape.
It was formed as rock of two different materials formed in layers, then erosion from water, wind, and ice wedging carved out rock underneath the top layer, which is more erosion-resistant. The difference in makeup between these two rock layers is responsible for the incredible balanced rock formations throughout the park.
This site is very near the Arches Scenic Drive and easy to access, with great views from the car or a 0.3 mile walk to the rock and back.

Double Arch
Drive-Up: ✓ Very good views from the Arches Scenic Drive
Hike: ✓ 0.6 mile walk to and from the road (About 15 minutes)
Double Arch is a unique formation where you can see one interconnected arch through the other. You can get a fantastic view of this arch already from the main road, or you can take an easy walk to stand under the arch itself. Its more circular shape makes it recognizable in contrast to other straight-legged arches, and it's located near the popular Windows section of the park.

Windows Loop & Turret Arch
Drive-Up: X
Hike: ✓ 1.2 miles (About 30 minutes)
The Windows Loop is one of the most popular areas in the park due to the large number of arches visible from its one trail. It takes about thirty minutes to walk the loop that joins the Windows area and Turret Arch, but for a shorter hike you can cut the out-and-back walk to Turret Arch near the middle of the loop.
Along the way you'll pass the North and South Windows, just a few of the natural arches along this trail. A popular picture spot is at the North Window, where you can snap a photo looking through the arch to see the Turret Arch.
This is one spot you won't be able to see from the car, so pack your walking shoes if you plan on visiting Windows Loop and Turret Arch!

Arches Scenic Drive
Drive-Up: ✓
Hike: X (Although there are hikes along the way you can take to the different arches.)
The Arches Scenic Drive is the main road through the park with some of the park's best views along the way. It runs 18 miles long and is open the whole year, with many drive-off areas where you can park and stop to take pictures.
If you're not in the hiking mood or are trying to beat the heat by staying in range of your AC, taking the Arches Scenic Drive still gives you plenty of exposure to the beauties of Arches National Park. You'll have the opportunity to stop at scenic vantage points along the way to see many of the park's wonders from your window.

Park Avenue Viewpoint
Drive-Up: ✓
Hike:✓ 1.8 miles (About 50 minutes)
There are no arches at this viewpoint, but it still deserves its own spot on this list because of the stunning views of towering rock turrets framing the area. You can see the best view right from the car area, but you can also walk or jog on the Park Avenue trail, which is considered easy.
Devils Garden
Drive-Up: X
Hike:✓ 7.9 miles (About 3.5 hours)
If you're really looking for a challenge, the nearly eight-mile loop trail around Devils Garden is considered challenging with an estimated 3.5-hour completion time, but has a worthwhile payoff! You'll gain 1,085 feet in elevation along this hike as you pass breathtaking views of several unique arches like Landscape Arch, Navajo Arch, Pine Tree Arch, and Double O Arch.
Some hikers find the trail hard to follow as it's not as well-marked as other areas of the park, but it's well-trafficked, so you'll likely be able to spot other people who can lead the way.

Fiery Furnace
Drive-Up: X
Hike:✓ 2.1 miles (1 hour+)
The Fiery Furnace only accepts 65 visitors per day, and you must be able to snag one of the permits available online a week before your visit to get into this area of the park. Guided tours are recommended for finding your way through this spire-filled valley, but more experienced hikers may choose to make an adventure out of picking their way through on their own.
The Fiery Furnace consists of tightly-packed fins and spire rock formations, with the "official" trail winding through for two miles in a loop. You can explore off the beaten path, but there are some areas that are only passable on the official trail. The trail is not well-marked, but there are small arrow trail markers and signs warning you of dead ends.
The difficulty level is considered moderately challenging, and it can take one to three hours (or more) to complete, depending on how much time you take exploring along the way.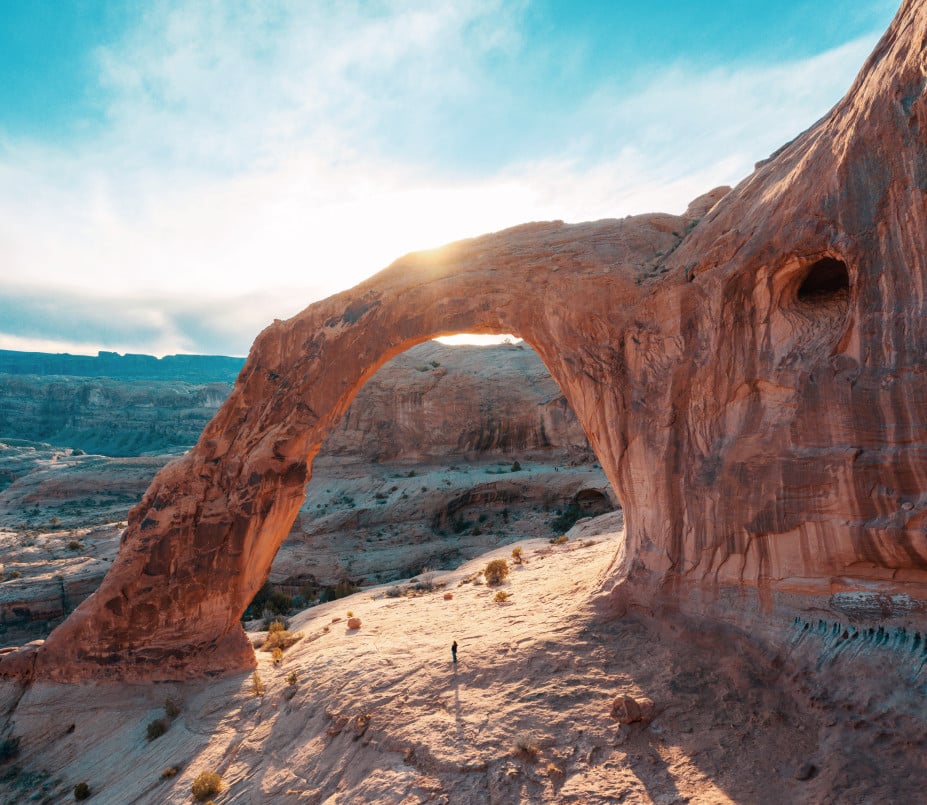 Bonus: Corona Arch & Bowtie Arch Trail
Drive-Up: X
Hike: ✓ 2.4 miles (About 1 hour)
Corona Arch and Bowtie Arch aren't actually inside Arches National Park, but their close proximity to the park makes them a perfect final destination for your day if you have some extra time in Moab. Located just a few miles north of the park, the Corona and Bowtie Arches have some of the best views outside of Arches National Park.
The trail is considered moderately challenging. Unlike trails inside the park, dogs are allowed on this trail, so the Corona Arch & Bowtie Arch Trail is a great option for families with furry friends!
Fully Guided Tour of Arches National Park
Are you sold on visiting Arches yet? We sure are! At Utah Luxury Tours, we offer fully guided, multi-day private tours that cover Arches, Zion, and other breathtaking Utah national parks to give you the complete Utah outdoor parks experience! Our tours provide everything from accommodations to permits to cover all the pesky steps of planning, and our expert, friendly tour guides help you hit all the most important points and views. Best of all, we can accommodate any level of physical capability.
Get in touch today to learn more about our packages for exploring Utah's national parks with Utah Luxury Tours!